Our English curriculum has been designed to develop a love of English language and literature through a culturally rich, diverse and exciting curriculum. It is sequenced to build and refine students' skills from Key Stage Two. Over time, students' abilities to respond to texts analytically and independently will be developed with a focus on how the writer's choice of methods create meaning, along with the significance of contextual influences as they move into Year 9 in preparation for their GCSEs. Additionally, our focus on writing will enable our students to become confident, articulate and engaged students who can present a range of views effectively.
Key Stage 3: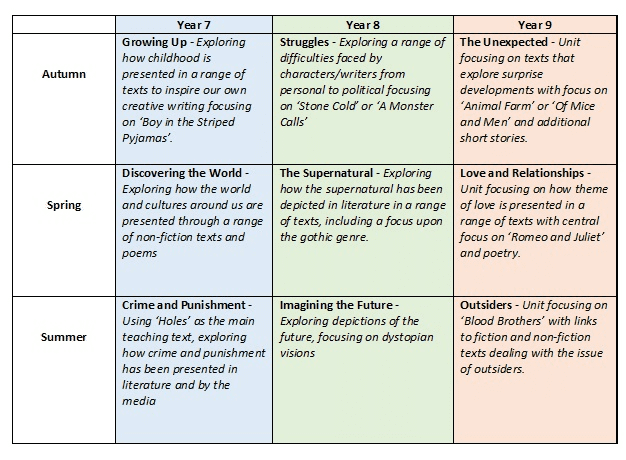 At Key Stage 3 one of our priorities is teaching students the skills and giving them the confidence they need to succeed at GCSE. Through building media elements into each of our units, we are enabling students to access material through a range of techniques and preparing those of them that will choose AQA GCSE Media as an option for their future studies.
We have structured our KS3 thematically to ensure that students are exposed to a wide range of literature and language at all points in their English learning journey. This means that we do not teach one skill or area in isolation but teach fiction, non-fiction, poetry, literature and media together within units which focus on a theme. In addition, our themes have been chosen to maximise their exposure to a plethora of material which will enable them to see the links between themes, writers and styles. This will foster confidence in the students who will be practising and honing their skills in all disciplines of English continually and allow them to see the links between language and literature.
Key Skills in reading across Key Stage 3

Key Stage 4:
All Year 10 and 11 students study for AQA GCSE English Language and AQA GCSE English Literature, with examinations at the end of Year 11. Across Year 10, students are introduced to a broad range of skills, genres and question styles that they will need for their examinations at the end of Year 11 as well as the bulk of literary texts they will need to know. Beginning with the play An Inspector Calls and the classic novella A Christmas Carol, students will then study a range of non-fiction and fiction extracts to develop their skills of inference, analytical writing and original writing. They will also study a collection of poetry on the theme of Power and Conflict.
After studying the play Macbeth during the first term, Year 11 is focused on preparing students for their exams at the end of the year, teaching any poems not explored in Year 10 and returning to and revising all the core texts. The year will also be heavily focused on developing students' creativity, idea development and responses to previously unseen texts. Assessment becomes a real focus as students take an increasing number of mock exams to prepare them for their final exams.
Facilities:
The faculty has a suite of dedicated teaching rooms which are all equipped with projectors and interactive whiteboards. Four rooms have sets of laptops for student use and another is a dedicated Media Suite, complete with a chromakey screen.
Accelerated Reader:
Accelerated Reader is a reading scheme designed to create a culture of reading and to accelerate learning through reading. This programme is used with Years 7 and 8.